Kinesiology Newsletter 2015
Greetings from the Department Chair
Greetings, I hope this newsletter finds you well. A great number of things have changed since I came to Cal Poly 16 years ago, but the important things remain the same: we continue to prepare our students to become leaders in meeting important social needs by providing them with exceptional Learn by Doing experiences.
Department News
SHAPE America Honors Professor Camille O'Bryant at National Convention
Camille O'Bryant, kinesiology professor and associate dean, received the E.B. Henderson Award at the Society of Health and Physical Educators (SHAPE) America National Convention and Exposition in Seattle in March. The award recognizes minority SHAPE America members who have increased involvement of ethnic minorities and/or underserved populations within their profession, SHAPE America or society through numerous years of dedication to scholarship, mentorship and service. 
Professor Todd Hagobian Named American College of Sports Medicine Fellow
Cal Poly Kinesiology Professor Todd Hagobian has been named a fellow of the American College of Sports Medicine (ACSM), one of the organization's highest honors. As a fellow, Hagobian will have the opportunity to work with prominent researchers, clinicians and policy-shapers in the field of sports medicine and exercise science.
Thank You to Our Generous Donors
Private support from alumni, parents, friends, businesses and agencies enables the department to continue to provide exceptional Learn by Doing projects and opportunities for today's students. We greatly appreciate the generosity of all of our donors.
Real-World Research
Cal Poly Study Finds Preschool Obesity Rates in SLO County Reflect National Trends
The percentage of preschool-aged children who are overweight or obese appears to be leveling off in San Luis Obispo County, according to a Cal Poly study, though the rate is still significant at more than 33%, or one in three children. These results reflect a nationwide trend that suggests childhood obesity rates have stopped rising.
Read more about the obesity study
Cal Poly Study Sheds Light on Mothers' Bottle-Feeding Behavior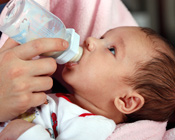 Parents who are bottle-feeding may be able to decrease their infants' risk for overfeeding simply by using a weighted, opaque bottle. In a Cal Poly study recently published in the journal Appetite, researchers found that the amount of infant formula some mothers fed their babies depended on whether the mothers could see and feel how full the bottle was.
Read more about the bottle-feeding research
Alumni News
Kinesiology Alumnus Leads Women's Youth National Water Polo Team to Gold Medal
Cal Poly alumnus Andrew Silva (B.A., Political Science, 2002; M.S., Kinesiology, 2010) picked up a gold medal last summer — as a coach. He helped lead the USA Women's Youth National Water Polo team to a first place finish in the 2014 Union Americana de Natacion Junior Pan American Championship.
Events
Visit Us at the SLO Marathon
The starting gun will go off for the San Luis Obispo Marathon at 6 a.m. on Sunday, April 26, but the fun starts long before that. The Kinesiology Department will be at the Cal Poly Alumni booth, tent number five, all weekend, beginning at noon on Friday, April 24. 
Related Content