News and Events
2018
Cal Poly Kinesiology and Public Health Professor Wins CSU Award for Outstanding Scholarship
Cal Poly kinesiology and public health Professor Suzanne Phelan has received the $20,000 Wang Family Excellence Award for outstanding commitment to student achievement and scientific contributions. Phelan was one of five California State University faculty and staff members to receive the award. 
Read more about the professor who won a CSU Award
2015
Kinesiology Professor Named 2015 Simms/Mann Faculty Fellow
Alison Ventura, a professor in the Kinesiology Department, has been selected as a 2015 Simms/Mann Faculty Fellow.
Read more about Alison's fellowship
Associate Dean 
Named National Kinesiology Fellow 
Camille O'Bryant has been selected to join the ranks of this year's National Association for Kinesiology in Higher Education Fellows.
Read more about Camille O'Bryant
Kinesiology Alumnus Volunteering across the U.S.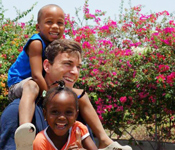 After graduating from Cal Poly and before plunging into a medical school program, Cooper Ehlers (B.S., Kinesiology, 2015) decided he wanted to give back to the community — in all 48 contiguous states. Ehlers plans to volunteer with local nonprofits in every state except Hawaii and Alaska.
Related Content