News and Events
2018
Cal Poly Kinesiology and Public Health Professor Wins CSU Award for Outstanding Scholarship
Cal Poly kinesiology and public health Professor Suzanne Phelan has received the $20,000 Wang Family Excellence Award for outstanding commitment to student achievement and scientific contributions. Phelan was one of five California State University faculty and staff members to receive the award. 
Read more about the professor who won a CSU Award
2015
Kinesiology Professor Named 2015 Simms/Mann Faculty Fellow
Alison Ventura, a professor in the Kinesiology Department, has been selected as a 2015 Simms/Mann Faculty Fellow.
Read more about Alison's fellowship
Associate Dean 
Named National Kinesiology Fellow 
Camille O'Bryant has been selected to join the ranks of this year's National Association for Kinesiology in Higher Education Fellows.
Read more about Camille O'Bryant
Kinesiology Alumnus Volunteering across the U.S.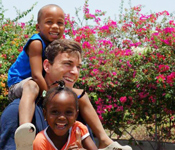 After graduating from Cal Poly and before plunging into a medical school program, Cooper Ehlers (B.S., Kinesiology, 2015) decided he wanted to give back to the community — in all 48 contiguous states. Ehlers plans to volunteer with local nonprofits in every state except Hawaii and Alaska.
2014
Spring 2014 Newsletter
Read the 2014 Kinesiology Newsletter.
New Times Features STRIDE Healthy Beginnings Study
Professor Phelan and Professor Hagobian of the Kinesiology department have been featured in local newspaper New Times for their work with expectant mothers and their families. Their respective studies, Healthy Beginnings and Healthy Beginnings in Partners, strive to assess the impact of change in health and fitness for pregnant and postpartum mothers and their partners. 
Read more about Professor Phelan and Professor Hagobian.
Kinesiology Dept Chair Dr. Kevin Taylor Featured on Los Angeles Radio Station KPFK
Los Angeles radio station KPFK recently featured Department Chair Kevin Taylor on its award-winning program, Access Unlimited. Dr. Taylor discussed STRIDE's Activity4All project, which provides community members of all levels of ability with opportunities for recreation and exercise. The program is staffed by Cal Poly kinesiology students who collaborate with engineering students and volunteers to create fun and inclusive adapted physical activities.
Read more about KPFK's feature on Access Unlimited.
The New York Times - Physical Therapists Use Wii Golf to Treat Patients

The New York Times reports that use of the Nintendo Wii has become more than just a game for some physical therapists. Since issues with balance and movement are common concerns for patients recovering from brain injuries or strokes, utilizing the Wii through games like golf not only adds a practical element to recovery, but a fun one. If the game is an activity the patient enjoyed pre-injury, he or she will be more motivated to continue therapy. 
Read more about therapy utilizing the Wii to help patients.
Professor Todd Hagobian Awarded $3.3 Million NIH Grant to Study Father's Health During Pregnancy

Not many pregnancy studies focus on dads, but Cal Poly Kinesiology professor Todd Hagobian is changing that. Hagobian recently received a $3.3 million grant from the National Institutes of Health (NIH) to study whether the behavior of mothers who change their eating and exercise habits during pregnancy will rub off on fathers.
Read more about Professor Todd Hagobian and his research.
Related Content